Map of our visitors
When you say Remote Internet lab, everyone definitely think about the question: What is the distance from which users connect? Thanks to the service FlagCounter we can record States from which our visitors come. Service runs from 24 February 2012 and on the attached map are pinned flags of countries from which we have been visited by users.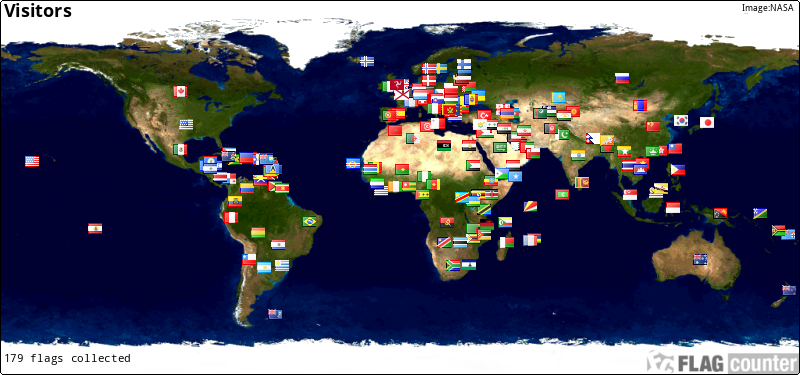 ---
Participates (or participated) in the development of the Remote-LAB
RNDr. Miroslav Panoš, Ph.D.
Author, sponsor and co-owner of the Remote-LAB GymKT
co-author of the experiment ZaCHaRIAS » ©2015–16

co-author of the experiment DiANE » ©2018–??

developer of the control application K8055-MARIE » ©2014–18
doc. RNDr. František Lustig, CSc.
Faculty of Mathematics and Physics, Charles University
Lukáš Holeček, Martin Jílek, Petr Trnka
students of J. Vrchlicky Grammar School, Klatovy
Adam Krátký, Václav Hrabík
students of J. Vrchlicky Grammar School, Klatovy
Karel Patlejch
student of J. Vrchlicky Grammar School, Klatovy

---
Small feedback about our laboratory: (from the coronavirus pandemic)

"Dear colleagues,
Thank you for your work with this laboratory, especially lately I like to use it for our students. If you are interested, I can send a decent report from the individual tasks as a thank you, maybe it would be useful for you."
Zdeněk H. (Prague, 19 Feb 2021, 13:14)
---

"Good day,
Your remote lab is a precision work that I really like! I am currently such a "teacher rookie", I fell into teaching because my original engineering position has disappeared due to coronavirus. But I must say that I really enjoy learning."
Ing. Jiří U. (16. Feb 2021, 19:49)
---

"Have a nice day,
Thank you so much for the great remote experiments. Greetings from Pardubice and I wish you health and well-being in the new year!"
Monika D. (Pardubice, 10. Jan 2021, 19:52)
---

"Good day,
I would like to congratulate the authors and developers of the remote laboratory at GymKT on a great project and thank them for their work. In the current pandemic situation, I used RL in my university teaching of future physics teachers and it worked great. Thanks again for your work!"
Petr K. (Prague, 20. 11. 2020, 10:29)
---

"Good day,
the light bulb left you on a remote VA light bulb experiment. So just let you know. Thank you very much for your remote lab. These days, it allows me to meaningfully teach physics. You're amazing!"
Jan Š. (Prague, 16. Nov 2020, 21:55)