NOTICE:
We disagree with the exclusion of Newton's laws, Ohm's law and the energy conservation law from physics of primary schools in the Czech Republic!
Voltamper LED characteristic
(approximate determination of Planck's constant)
Remote experiment
Important:

To start a remote control tasks must have your browser installed, and permitted some services. Before you start Make sure the processor so.
System requirements for remote start of the experiment:
internet browser with JavaScript and CSS (tested min. version: IE 5, FireFox 3.0, Opera 9.6, …)
your internet browser MUST support AJAX (PC browsers are OK, but be careful for some SmartPhone)
enable JavaScript in your Internet browser (instructions )
Control of the experiment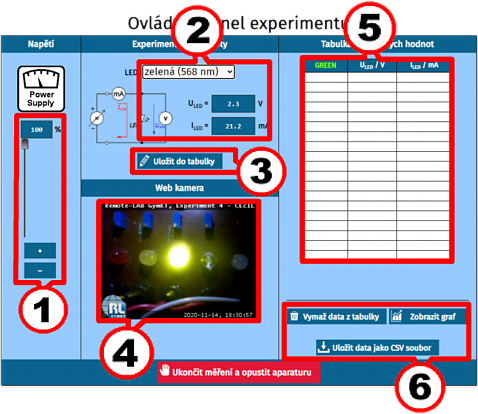 Adjust the el. voltage - the electric voltage can be adjusted by moving the slider or by buttons + and –

Experimental values - value of el. voltage on the diode and el. passing flow through the diode

Writing values to the table - measured values are entered in a table of values

Web camera - The camera shows five LEDs that are measured (selected LED will light up after crossing Up)

Table of experimental values - values of voltage and electric current is stored for plotting to the V-A characteristics

Work with data in Table - see chart, save data, delete table
---