NOTICE:

Experiments are stopped from June 15 to about November 1, 2018 (The reason is still ongoing construction work near the laboratory.).
Sorry for the constant postponing the date of execution. The laboratory is too valuable (our effort and money) to be destroyed as a result of unnecessarily hasty start. Thanks for understanding!
Spring Oscillator
(Forcced oscillation & Damped oscillation)
Remote experiment
Important:

To start a remote control tasks must have your browser installed, and permitted some services. Before you start Make sure the processor so.
System requirements for remote start of the experiment:
internet browser with JavaScript and CSS (tested min. version: IE 5, FireFox 3.0, Opera 9.6, …)
your internet browser MUST support AJAX (PC browsers are OK, but be careful for some SmartPhones)
enable JavaScript in your Internet browser (instructions )
Supported by ISES

Control of the experiment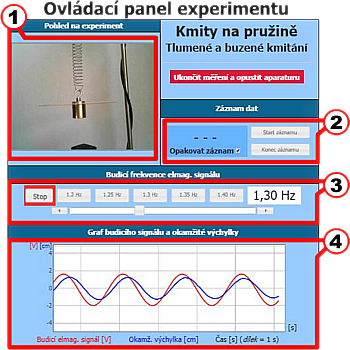 webcam - the camera follows the real experiment (it is possible to observe the magnitude of the immediate displacement of the spring oscillator)

record experimental data - experimental data can be saved using the record buttons and later viewed or downloaded to a PC

excitation frequency setting - excitation frequency can be set to values obtained (buttons) or continuously varied (slider)

graph of instantaneous values - the instantaneous value of the excitation voltage (red), and the immediate extension of the spring (blue) are plotted in a diagram
---
The creation of this experiment was supported by the European Regional Development Fund.

CZ.1.14/2.4.00/34.03174
Vybavení pro posílení přírodovědně technického vzdělávání