Spring Oscillator
(Forcced oscillation & Damped oscillation)
Remote experiment
Important:

To start a remote control tasks must have your browser installed, and permitted some services. Before you start Make sure the processor so.
System requirements for remote start of the experiment:
internet browser with JavaScript and CSS (tested min. version: IE 5, FireFox 3.0, Opera 9.6, …)
your internet browser MUST support AJAX (PC browsers are OK, but be careful for some SmartPhone)
enable JavaScript in your Internet browser (instructions )
Control of the experiment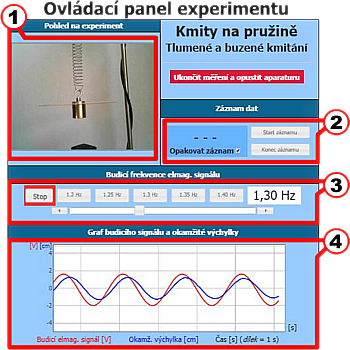 webcam - the camera follows the real experiment (it is possible to observe the magnitude of the immediate displacement of the spring oscillator)

record experimental data - experimental data can be saved using the record buttons and later viewed or downloaded to a PC

excitation frequency setting - excitation frequency can be set to values obtained (buttons) or continuously varied (slider)

graph of instantaneous values - the instantaneous value of the excitation voltage (red), and the immediate extension of the spring (blue) are plotted in a diagram
---
The creation of this experiment was supported by the European Regional Development Fund.

CZ.1.14/2.4.00/34.03174
Vybavení pro posílení přírodovědně technického vzdělávání