NOTICE:

Experiments are stopped from June 15 to about November 1, 2018 (The reason is still ongoing construction work near the laboratory.).
Sorry for the constant postponing the date of execution. The laboratory is too valuable (our effort and money) to be destroyed as a result of unnecessarily hasty start. Thanks for understanding!
K8055-M.A.R.I.E.
(Management Application for Remote Internet Experiments)
DANGER - DEVELOPMENT ZONE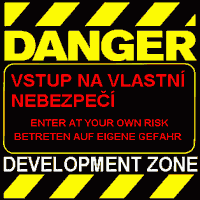 This space is not a standard remote lab environment. This website is intended for test and development of our control K8055 board environment. Many people looking for a solution of the K8055 control over the internet website. This page is just for them!
Gradually, we'll create a page of technical support for our product - control server boards K8055. There appears a description of our solution, download files, demo programs and manuals, etc.
PLEASE RESPECT THAT YOU ARE MOVING IN DEVELOPMENT ZONE!
---
K8055 Remote Control
We just tested
the stability of the K8055-MARIE (server and the browser response)
response of the ISES-ZOMBIE module