NOTICE:
We disagree with the exclusion of Newton's laws, Ohm's law and the energy conservation law from physics of primary schools in the Czech Republic!
K8055-M.A.R.I.E.
(Management Application for Remote Internet Experiments)
DANGER - DEVELOPMENT ZONE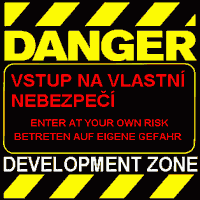 This space is not a standard remote lab environment. This website is intended for test and development of our control K8055 board environment. Many people looking for a solution of the K8055 control over the internet website. This page is just for them!
Gradually, we'll create a page of technical support for our product - control server boards K8055. There appears a description of our solution, download files, demo programs and manuals, etc.
PLEASE RESPECT THAT YOU ARE MOVING IN DEVELOPMENT ZONE!
---
K8055 Remote Control
We just tested
testing a new slider (DA outputs)
the stability of the (new version) K8055-MARIE (server and the browser response)
new version of remote control script (safety experience during remote control is taken into account)
counter – connected pin D1 (out) and A1 (in) | AD input – connected DA1 (out) and AD1 (in)